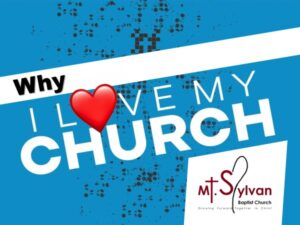 Members of MSBC were asked to share Why THEY Love Their Church.
Below are just a few of the sweet, kind words they wanted to share.
Throughout the month of October 2020 we will continue adding more from our congregation.
I love my church because I feel like we are family and going to see family is exciting. We have the strong feeling of God in the church with strong leaders are teaching the word of God thru song and the word and thru prayer. It's the best church anyone could be part of and is always welcome and quickly becomes 1 of us. I pray daily for MT SYLVAN BAPTIST CHURCH.
~Gail Briscoe 10/4/20
You can just feel the love here. There are lots of good people serving our Lord Jesus Christ here. Our church has a love for doing missions and outreach. We have a future vision for God's work here and on to heaven. We have been here 15 years and it has been our privilege to have two loving, dedicated pastors. They love Jesus and tell Him so and thank Him for loving us. How fortunate to have also dedicated music ministers that choose songs with such meaning that lead us to worship. The care given members through hospital visits, calls, concern and all kinds of help by staff and members is such a blessing. In our Bible studies, new people bond with a friendship to each other and to the Lord. We love our church because we are fed and led to follow Jesus Christ.
~Perry & Kathryn Sims 10/4/20
I love my church because I have been there since Emily Rose was 2 and they have always treated us like family and loved us without judging us. MT SYLVAN is the best church ever, I have made so many friends that have turned into family, I even married James Meredith twice once by Lance and by Bruce. MT SYLVAN is the best thing that has ever happened to our family. PRAISE GOD FOR OUR CHURCH.
~Melissa Meredith 10/8/20
When we joined Mt. Sylvan almost 30 years ago, there were only 35 to 40 regular members. We had thought we wanted a bigger church but we realized that this was where God wanted us to serve. It was a wonderful church to raise our family at and our children and grandchildren are still part of this wonderful church family. From the very beginning we felt loved at Mt. Sylvan. We truly have a wonderful church who loves Jesus, who loves each other and is very accepting and nonjudgmental. We've been blessed with godly leaders and we have never once regretted our decision to become part of the family of God at Mt. Sylvan Baptist Church! Mt. Sylvan Baptist Church is truly home for us and truly our family! There is no place we would rather be, this side of heaven! Much love,
~Cliff & Sherry Wallace 10/21/20
In a word, it's awesome! We love the people, and we love the vision of the church. Thankful to be a part of a missions minded, community involved, multi-generational church. We recommend it to anyone, anytime!
~Kevin & Juli Woolley 10/4/20
Family, that is what I feel when I walk through the door. Caring people who live the scriptures daily. Music that makes me sing and praise my Lord Jesus. Always an inspiring message from Brother Bruce. He makes me consider how I am going to spread the word. I wouldn't want to be anywhere else on Sunday mornings.
I love that the Word of God is preached and the Gospel of Jesus is shared. I love that our music lifts us to the throne of God. I love seeing our multi-generational congregation assemble together to worship our Lord. I love that our church family is always supportive and loving of each other and that grace and forgiveness are expressed through its people. I love that our people with their God given gifts serve the Lord, not only at church, but in our community. I love that God has placed a vision for the future and that we are all in one accord. Most of all we love Jesus and we want all to love and know Him too.
~Tressa Rudd 10/5/20
The number one reason I chose Mt. Sylvan as my church home is because the truth is preached here. A very close second is, because of God's people. My joy in life is found at Mt. Sylvan and maintaining that joy is by connecting to God's people. Paul wrote from his prison cell these words, to his church family in Phillipi, Phil 1:7-8, "It is only right for me to feel this way about you all, because I have you in my heart, since both in my imprisonment and in the defense and confirmation of the gospel, you all are partakers of grace with me. For God is my witness, how I long for you all with the affection of Christ Jesus." That's exactly how I feel about my Church. The last few months have been a real struggle for me and my family. But, it has been my Church, thru their love for Christ, who have ministered to me and strengthened my resolve to lean totally on Jesus.
~Velmer Heim 10/21/20
Why do I love my church? Well, for many reasons, let me tell you a few. I love my church because everyone is willing to lend a helping hand. We experienced a tornado about 5 ½ years ago and I will never forget the people who came the very next day and helped us clean up our yard and remove several huge trees. They took time out of their busy schedule, used their own time and money to come help us in our time of need. I love my church because the people are so giving and loving. When I started attending Mt. Sylvan, it was during one of the revivals in the fall. I remember a strong feeling of the Holy Spirit during those times. One particular instance one evening I walked into the church and James Barnwell greeted me with a big hug. That was the moment when I knew I had found a new church home. I love my church because we have a choir and I love to sing for the Lord. The scriptures say in the 95th Psalm, "O come, let us sing unto the LORD: let us make a joyful noise to the rock of our salvation. Let us come before his presence with thanksgiving and make a joyful noise unto him with psalms."
~Tim Taylor 10/4/20
The members at Mt. Sylvan are so friendly and make you feel welcome from your very first visit. You can tell the church is full of Bible believing Christians who desire to share Jesus with anyone they can. Worship service is so meaningful and heartfelt. Bro. Bruce has a love for people and a passion to serve God and share his love. I am so thankful to be a part and look forward to many more years with this church.
~April Segroves 10/19/20
I love my church for wonderful Pastor Bro. Bruce, Music Kevin, Choir and staff. I've been a member for many years, it's so exciting to watch it grow. We've always been a loving church even when we were small in attendance. I have many wonderful memories and looking forward to what God has for us in the future.
~ Barbara Franklin 10/30/2020