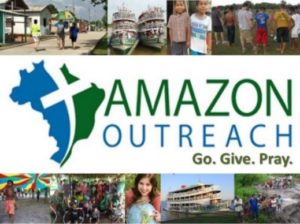 Amazon Outreach is a non-profit, interdenominational Christian mission organization formed to support churches and other organized ministries in Brazil in spreading the Gospel message of Jesus Christ throughout the Amazon River Basin. We partner with indigenous churches in Brazil that are seeking unreached people in the 30,000 villages with no Gospel presence, pastoral leadership, or biblical instruction.
Amazon Outreach takes Christians from every walk of life to the Amazon River to participate in various ministries. These ministries include medical, dental, eye care, evangelism, construction, and bible instruction for men, women, and children. By meeting physical needs we establish relationships with the villagers opening the door to share the love of Jesus Christ with them.
To learn More Visit:
2022 Amazon/Brazil Mission Trip Collection List
Collection Bins Are Located in the E&A or Drop Items Off By Office
Women's Items: Hats, Canvas Totes, Dish Towels, Hot Pads
Men's Items: Fishing Line 40lb & Hooks, Caps, Flashlights & Batteries, Small Pocket Knives
Flip Flops: (Men & Women, Size 9 & Under)
Toiletries: Travel Size Deodorant, Lotions, Soaps
Sunglasses & Reading Glasses: (Men, Women, & Children Styles, Any Strength)
Medical Items: Antiseptic Creams, Cortisone Creams, Triple Antibiotic Ointments, Prenatal & Children's Vitamins with Iron, Tylenol, Ibuprofen
Children's Items: Individually Wrapped Candy (chewables, lollipops, tootsie rolls, sweet tarts)
Baby Items: Summer Clothing, Lightweight Blankets, Pacifiers, Teething Toys, Cloth Diapers & Pins, Small Individual Packs of Baby Wipes
Misc: Soccer Balls w/ Small Hand Pumps / Needles (Sz 5), Gallon & Snack Size Ziploc Bags
THANK YOU FOR PRAYING & SUPPORTING THIS AMAZING EVANGELICAL MINISTRY.
GOING ON THE AMAZON TRIP:
Bruce Rudd https://ao.managedmissions.com/MyTrip/brucerudd1
Mike Barker https://ao.managedmissions.com/MyTrip/mikebarker1
Stan Head https://ao.managedmissions.com/MyTrip/stanhead1
Laura Head https://ao.managedmissions.com/MyTrip/laurahead1
Bryleigh Trotter https://ao.managedmissions.com/MyTrip/bryleightrotter1
Velmer Heim (Fully Paid)
If you'd like to donate to help with their expenses use the links provided above or call the church office. Thank you.