We are a family focused, faith-driven, friendly group of people of all ages, that enjoy worshiping a living, risen Savior. We want to encourage you to visit us, and see if this might be the church home God is leading you to be a part. We teach and preach the bible, and have made it our greatest aim to exalt our Lord and Savior Jesus Christ. You will find us very warm and welcoming. We look forward to seeing you soon.
In Christ's love,
Bro. Bruce Rudd, Pastor
OUR MISSION STATEMENT:
To Glorify God as We Engage in Evangelism,
Develop Disciples,
Minister to All Mankind,
Persist in Prayer, and Foster Fellowship
~ To Glorify God in All We Do ~
UPCOMING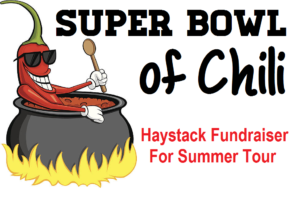 HAYSTACK CHILI FUNDRAISER
Supports our Haystack Youth Choir Summer Tour 2020
55 & UP TRIP TO BRANSON NEWS:
Special Message from Kevin Woolley:
Hello church family! As of today 1/13/20, we have a FULL bus for the November 2020 Branson trip. That's 48 people that have paid a deposit!!! Hallelujah! I am checking to see the cost of adding another bus, but don't have that price yet. I'll send out more information when I get it. Praise the Lord! What a great trip this will be!!!
Kevin
UPCOMING
Games, Fellowship, & Making Valentine's Crafts for Nursing Home
Event for Married, Engaged, Dating 18 & Older
Mexican Meal, Fun Entertainment
SCHEDULE
7pm
Prayer/
Bible Study Students
at Petty's Restaurant in Lindale at 7am, Music, Fellowship, Bible Study, Open to Community
1pm-4pm in the E&A, Bring Snacks & Table Games, Fun Fellowship in E&A
Every 4th Saturday of the Month
HOME2HOME FAMILY VISITATION MINISTRY